maris1013

Add maris1013 as a friend

maris1013 will be notified and will have to accept this friendship request, to view updates from maris1013 and their ratings you must follow them.

Remove maris1013 as a friend



About me
I'm a vegetarian animal rights fighter, punk rock music lover, Buddhism student and dog trainer; that loves to bake cupcakes =)
Lists
Recent reviews

Posted : 9 years, 3 months ago on 18 August 2011 05:04 (A review of
Grave Encounters
)
I actually was NOT disapointed by this movie. It's not the most original of premises, but it actually manages to deliver (despite story holes and bad acting) more than a few good scares. I only wish the ending would have been better edited.

0 comments,
Reply to this entry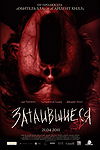 Posted : 9 years, 3 months ago on 18 August 2011 05:00 (A review of
Hidden 3D
)
It's a pretty decent horror movie. Once you get past the intro it is all very much entertaining.

0 comments,
Reply to this entry
Movies
TV
Music
My feed
Comments